The Fact News Service
Mohali, October 29
Pargat Singh, Minister for Higher Education, School Education, Sports, Youth services and NRI Affairs here today said that Punjab would soon set up an Education Regulatory Authority soon.
Addressing students at the Rayat Bahra University on the `Role of Higher Education', he said there was an urgent need for an academia-industry interface to ensure that students passing out from universities and other institutions could get employment when they pass out.
Speaking at the sidelines of the function, he told media persons that education also needed to be made more affordable to check the immigration of youth. Referring to the issue of education becoming costlier by the day, he also said that there was need to develop education hubs wherein facilities available at educational institutions, both government-run and private, on knowledge sharing basis.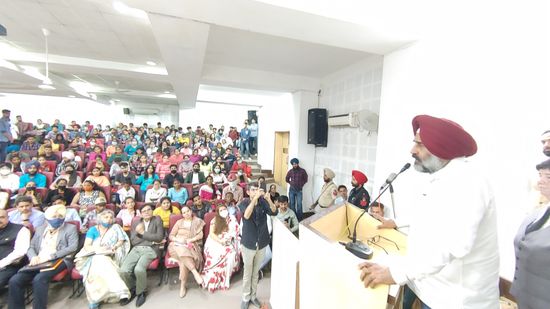 He said that education also needed to be made more affordable to check the immigration of youth. The Minister said that there should be emphasis on domain skill, soft skill, and industry- interface as part of curriculum.
There should be special focus on entrepreneurship skill development with international exposure. The universities should introduce selective courses in relevant fields in partnership with industry leaders by having futuristic outlook and employability driven curriculum to increase the employment potential of the passing out students.
Pargat Singh lauded the commendable work being done by the Rayat Bahra Group of Institutions which had over the years become the leading educational hub in this part of the country. The minister was accompanied by former MP Sandeep Dixit and Srinivas.
Gurvinder Singh Bahra, Chancellor of the Rayat Bahra University, speaking on the occasion said that with state-of-the-art infrastructure, and strong industry collaborations, the Rayat Bahra University attracted students not only from across the country but also abroad.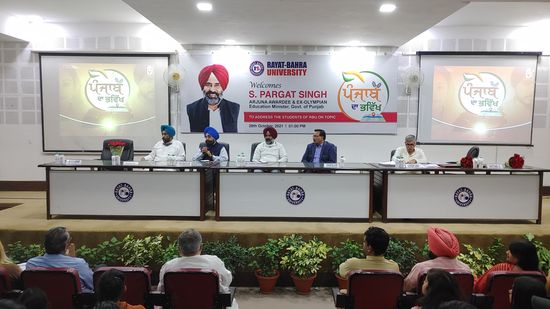 Bahra said the university offers courses in Engineering & Technology, Business, Planning & Architecture, Art & Design, Mass Communication, Sales & Marketing, Hospitality Management, Pharmacy, Health Sciences, and Education.
Dr Parvinder Singh, Vice-Chancellor of the university, said that the university had also tied up with other international companies like Google, Apple, IBM and TDS group for introduction of new programmes which would give the students passing out in the new courses a cutting edge in the matter of placements. Sandeep Dixit, former MP, also shared his views.
The University has set a benchmark by developing intrinsic human abilities in students and providing a skilled human resource for the job market which would contribute to the advancement of knowledge in a larger prospective, he added.
The education minister also had an interactive programme with the students.